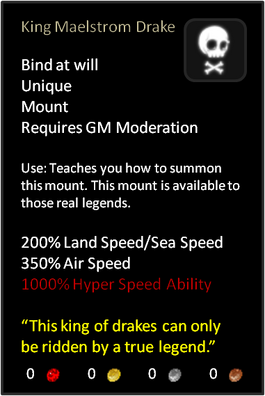 For the details of the creature, visit King Maelstrom Drake.
A King Maelstrom Drake is a variant of the Maelstrom Drake godly mount, available only to Game Moderators. It is black with red markings and eyes, golden plated wings, and with various white tail spikes. It has many differences from the standard Maelstrom Drake.
Differences from the Standard Maelstrom Drake
Edit
It has 200% ground speed, 350% air speed, instead of the standard 150% and 250% increase.
It's hyperspeed function accelerates to 1000% speed, instead of the standard 500%. In addition, it can be used for a longer period of time.
Only GMs can get it so far. It is unknown if it will be a future or temporary reward or gift.
It has the Skull image as its icon, meaning it is GM only as well.