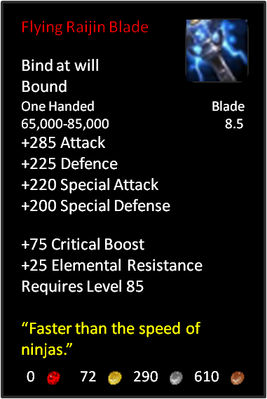 The Flying Raijin Blade is a godly one handed sword, which serves as a quest item known as one of the Mystery Weapons.
This starts the quest Thumper Jumper .
These are discovered upon extracting it.
The Flying Raijin Blade is a powerful weapon. It can jump over a small distance and slash it's opponent(s) without even continuing time for a decimal of a second.
I don't know who it belonged to, except for traces of wielding from the Hayabusa Legion . Those brave Maelstrom guardians perished, with only an unknown amount of these blades being extracted safely.
This item is rewarded on a 1% chance of being extracted from a Godblessed node, with an Excavation skill of 95.
Ad blocker interference detected!
Wikia is a free-to-use site that makes money from advertising. We have a modified experience for viewers using ad blockers

Wikia is not accessible if you've made further modifications. Remove the custom ad blocker rule(s) and the page will load as expected.